Farms connect intelligently to growing better crops with "NAMAA".
Maximize crop production and reduce costs through.

Water and fertilizers usage optimization.
Early prediction of crop disease.
Learn about extreme weather precautions.
Informed instructions for farmers.

Crop theft reduction.
Better visibility of overall resource usage.
Improved understanding of the crops' surrounding environment.
Optimize water productivity.
Early prediction of crop diseases.
Problem Statement
Technology has become a significant cornerstone to industries worldwide, businesses small and big have realized that building a sturdy IT infrastructure is not a wasteful investment, but rather an opportunity to extend their business growth and development.

Agriculture is by no means alienated from his market perception, as the agriculture market continues to face numerous challenges, many of which staying on top of real-time information has been prominent.
Challenges
Farm Management.
Farm security and potential crop theft.
Farm yields quality and quantity.
High salinity rates.
No visibility on irrigation schedules and volumes.
Disease and pest infection.
Fertilization scheduling and monitoring.
The Proposed Solution
In order to resolve the given farm main challenges, the proposed solution included the deployment of different sensors in the farm, to collect data related to various environmental factors and the farming process employed.

With the availability of this data, whether through remote farm monitoring, timely alarm/ warning notifications or farm reporting, users will have access to information that will grant them better farm visibility and effectively enhance their management of the farm.

This solution also included the deployment of control components across the existing irrigation system in order to achieve remote and scheduled automatic control of the farm irrigation programs.

To facilitate accessibility from any location at any time, NAMAA mobile application was chosen as the main platform used by the farm owners to monitor and control the farm remotely and automatically.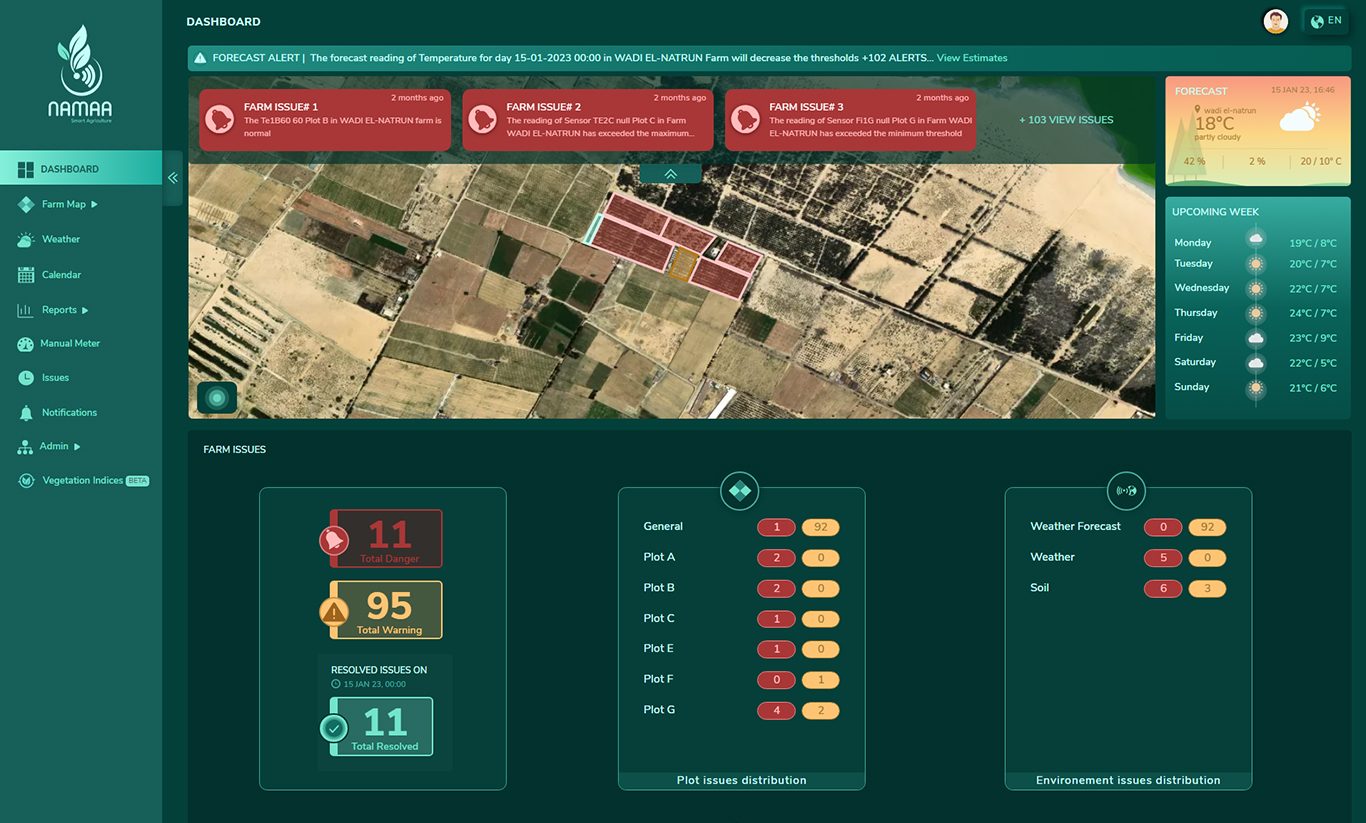 Achieved Results
Better monitoring of Wadi El Nutrun farm through real time footage.
Yield quality increase to price crops at the high-end of the market price.
Yield quantity increase by 25%.
Water usage reduced by 50%.
Fertilizer costs cut by 30%.
Disease infection damages decreased considerably through early detection and handling.
Better farmers' performance.
Better farm profitability.
Join our farms of the future
NAMAA is a key enabler for maximizing the potential of agricultural resources, driving down costs and building more efficient agriculture systems.

Explore NAMAA Plans