We understand the challenges that farmers face on a daily basis, from the unpredictable weather,  manual and lengthy farm management, inaccurate resources management and also market instability. We have built NAMAA Pro, a comprehensive solution to help farm owners and growers optimize their operations, boost farm efficiency, and ultimately, boost their farm business profits.

NAMAA Pro embraces a range of value-focused, innovative technologies, including precision farming, IoT-enabled sensors and equipment, and real-time data analytics. Through NAMAA Pro farmers can gain an in-depth understanding of their land, crops, and resources, which allows them to make better, informed decisions that can improve their farm yields, reduce costs, and minimize resource waste.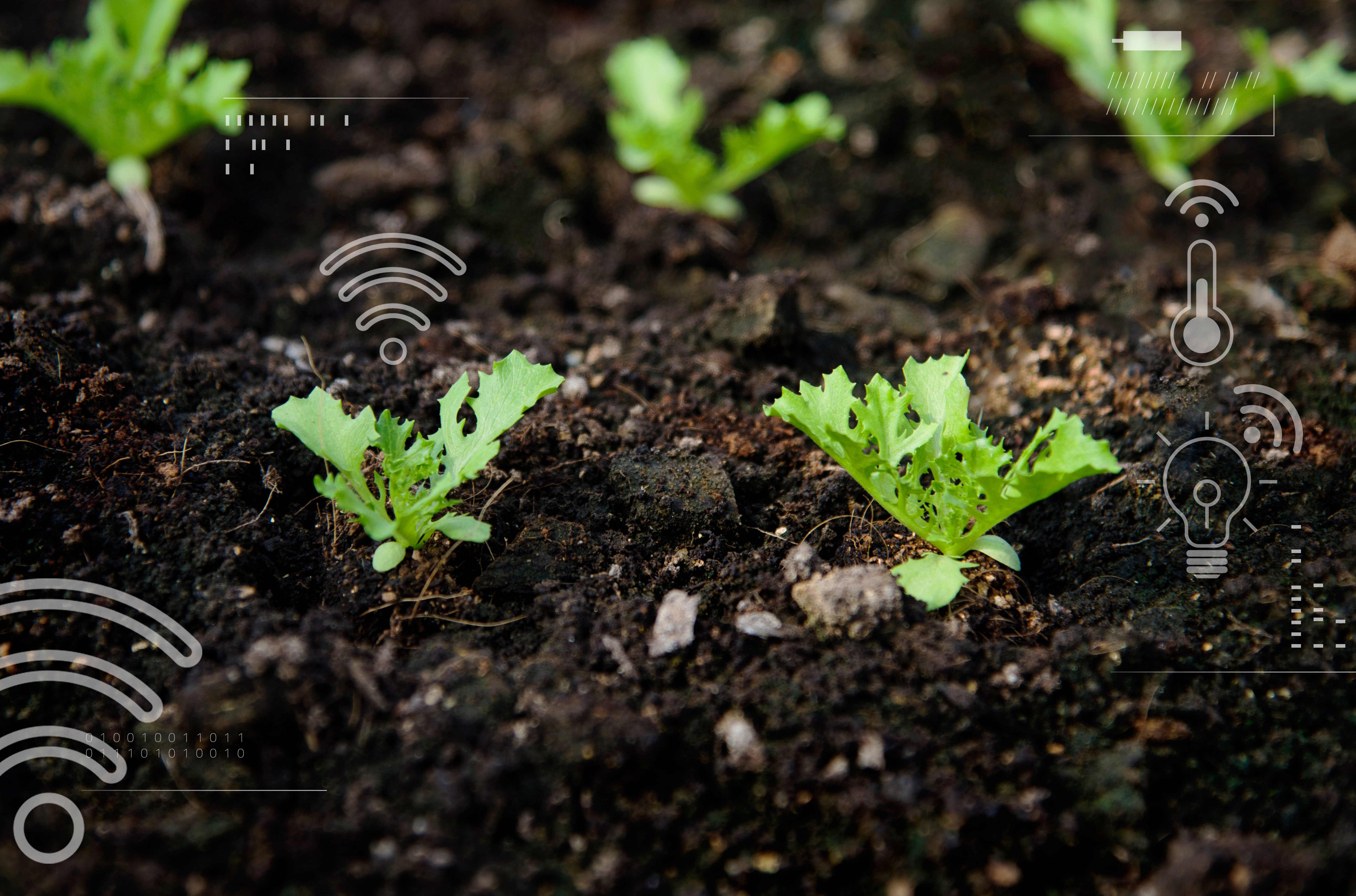 Data Collection
Remote Monitoring
Scheduling
Data Transformation
Remote Control
Notification
Reporting
Automatic Control
Alarms
NAMAA Pro Farm Management Modules
NAMAA Pro helps you gain a better understanding of your farm's soil in terms of its current status, challenges supporting crop growth and opportunities to improve.

You can now monitor various soil factors necessary for healthy crop development, such as: soil moisture, temperature, EC, Nitrates and Potassium.
Soil Mapping
Acquire accurate data about the condition of soil, weather, and crops including soil properties, such as pH, nutrient levels, and moisture levels.
Identify areas of land that need fertilization, irrigation, or other forms of actionable resolutions.
Soil Health Monitoring
IoT monitoring equipment such as sensors, monitor and collect soil data related to temperature, moisture, nutrient levels etc.
Identify potential soil health issues and better predict potential concerns before they occur, enabling preventive decisions and actions.
Efficient Application of Fertilizers and Pesticides
Apply fertilizers and pesticides to specific areas of a field that require application, rather than applying them in a random manner.
Reduce waste, lower costs, and minimize the impact on the environment.
Key Benefits
Re-evaluate current irrigation schedules based on actual soil-water absorption characteristics, in order to optimize irrigation.
View collected data from the farm every six hours, including readings for every 15 minutes' interval, in order to monitor the farm status closely (configurable timings).
Archive data to build historical models.
Receive warnings and alarms when the optimal requirements for healthy growth of your crop are not met, in order to adjust the fertilization plan as relevant.
Monitor essential soil nutritional needs without lab tests.
Monitor fertilizers flow in the soil across time, in order to ensure effective reach to the roots.
Use graphs to monitor nutrients/fertilizers concentration in the soil across time.
NAMAA Pro provides real-time weather monitoring, where it collects and analyzes real-time weather data, such as temperature, precipitation, wind speed, and humidity, allowing farmers to stay informed about current weather conditions and make decisions based on accurate, up-to-date information.

You can get a 7-day weather forecast based on local weather stations
Key Benefits
Alarms: Set alarms and warnings based on forecasted weather conditions within a 7-day period, to trigger protection programs that help avoid and minimize potential damages.
Reports: Utilize reports and graphs to visualize changes in weather conditions.
Irrigation: Optimize irrigation schedules to protect crops against diseases and pests, minimize waste and prevent soil erosion.
Crop Protection: NAMAA Pro helps farmers predict and prepare for weather conditions that can affect crops, such as frost, excessive heat, and high winds. Farmers can take necessary actions such as covering the crop or adjusting their irrigation schedules to protect their crops.
Controlling, managing, and optimizing irrigation schedules minimizes water waste, improve crop yields and control costs. You can use water resources more efficiently while ensuring that crops receive the right amount of water at the right time.

Smart sensors and devices can monitor soil moisture and together with weather forecasts, recommend irrigation system adjustments to ensure that crops get the right amount of water at the ideal times, promoting efficient water resource utilization and maximizing agricultural productivity.

Utilize a farm map view to easily locate farm irrigation valves.

Easily identify the status (on/off) of each irrigation valve on the map.

Detect and monitor total water flow within a specific period of time.
Key Benefits
Remote Irrigation Control: Control farm irrigation valves control (on/off) remotely from NAMAA application through tablet, phone, or desktop, which is more convenient to manage irrigations anywhere, anytime.
Automate farm irrigation schedules for the whole farm, plot, or each crop separately.
Compare irrigation schedules with moisture levels to track irrigation programs to avoid over-watering, which can waste water and reduce crop yields.
Maintain a safe level of PH in the irrigation water, to ensure healthy crop growth and minimize drip irrigation system clogging problems.
Monitor and measure fertilizers concentration in the irrigation water – based on water PH sensors.
Monitoring crops for signs of disease or pests helps identify problems early on so farmers can take precautionary measures to prevent them from spreading further to other crops or areas of the farm. Grow a better understanding of your crop's health, track changes over time and plan optimal crop planting and harvesting based on many factors affecting your farm.
Visually monitor crop status across different areas of the farm.
Get alarmed when environmental factors surrounding the crop are below or above the optimal levels.
Assess the effectiveness of your irrigation system by monitoring the moisture levels across different soil depths.
Satellite imagery creates detailed maps of crops and illustrates their health using different variations of light and color. You can predict crop yield development by analyzing data on crop growth and health status.

Satellite imagery can support farmers gain better understanding of their crops, land, and operational impact over their farms. Eventually, this optimizes decision-making, boosts production, improves crop quality, and reduces unnecessary costs.

NAMAA Pro alarms and notifications are designed to be helpful and informative. These notifications include weather alerts of upcoming weather events, such as high-winds, extreme temperatures, and other weather-related risks. Crop alerts, which are relevant to potential crop health issues or pests, helping you avoid crop damages and loss. Irrigation alerts, for irrigation issues and water levels. Custom alerts and notifications created according to farmer's monitoring to certain factors.

Alarms and notifications keep farmers and growers updated in real-time and enabling rapid response to issues and minimizing any impact on crop yields and overall farm operations.
How does NAMAA Pro help you?
Improve agricultural and farming decisions by constantly collecting and analyzing agricultural data to understand the actual environmental factors, monitor stress and plant vigor.

Built on the latest technology, leveraging modern sensors and communication protocols.

Predict the risks of various environmental factors and take preventive decisions to reduce damage to crops.

Integrated management solution, regardless of crop type or irrigation method.

Flexible tailoring to any farm requirements.

Analytics-driven optimization module to reduce cost and environmental impact through fertilizer management.

Scalable from small to large farming and agricultural operations.

Preserving farm data regardless of staff turnover, which preserves farm owner investment value.

NAMAA's mission is to help farmers realize sustainable and profitable farming, we're here to support you every step of the way.
Schedule a consultation today